OUR
MANAGEMENT
TEAM
TCA's management team comprises business leaders, builders and entrepreneurs with extensive management and operations experience including heads of family owned & run firms established for more than 50 years.
Stanley Chin

Founder and Group CEO

Richard WONG

Investment and Wealth Management Advisor

Jason Xu

Investment Manager
Stanley Chin
Founder and Group CEO of Treasure Capital Asia ("TCA")
Stanley Chin is the founder of Treasure Capital Asia ("TCA") and serves as Group CEO, focusing on business development, new ventures, business plan formulation, deal sourcing, strategic partnerships, capital raising and digitalization.
He has worked in senior management positions as well as an entrepreneur stretching 20+ years in London, Hong Kong, Singapore and Shanghai including:
2011 – 2014: Management of Portman Holdings China (in China since 1979), responsibilities include capital raising, business development, strategy, deal sourcing, execution, development & project management
2007 – 2011: Director and Lead Fund Manager of Pan Asian Real Estate Funds, covering fund of funds and direct property funds at the real estate division of Henderson Global Investors (now part of Nuveen)
1995 – 2007: Sourcing and execution of real estate transactions in the UK and Europe-wide at Pramerica, Rockspring and HSBC Principal Investments
Stanley served as Vice Chairman of the China Real Estate Chamber of Commerce Hong Kong and International Chapter ("CRECCHKI") from 2014 – 2018.

Stanley earned a BSc (ECON) and MSc (ECON) from the London School of Economics. He is a Chartered Financial Analyst ("CFA") Charterholder and a Chartered Accountant ("ACA").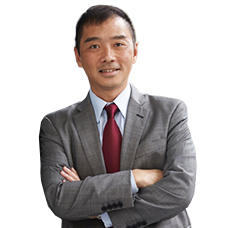 Alex Chan
Partner at Treasure Capital Asia ("TCA")
Alex has 20+ years of experience in private wealth, asset management and financial services in Hong Kong, Singapore, and New York.
At TCA Alex currently manages investor relations, business development, operations and regulatory compliance.

Alex began his career as an accountant in New York. However, his passion turned to investments and soon he became an investment analyst for a mutual fund that was eventually acquired by Credit Suisse Asset Management. Alex furthered his career in Hong Kong and worked towards becoming a wealth manager, and for over 10 years he was a private banker with JP Morgan & Co and BNP Paribas covering Greater China markets. In recent years Alex's career progressed towards managing asset management institutions such as private equity, hedge fund and independent wealth manager that are regulated by the Securities and Futures Commission of Hong Kong. Alex has in depth experience in many aspects of compliance, anti-money laundering and counter terrorism financing from a compliance chief and COO perspective. He is a Certified Anti-Money Laundering Specialist (CAMS) and Society of Trust and Estate Practitioners (STEP) Certificate Holder. Alex holds a BBA in Accountancy, MBA in Banking and Finance and MSc in Wealth Management.


Richard Wong
Senior Advisor at Treasure Capital Asia ("TCA")
Richard is a veteran banker with over 40 years experiences in investment and wealth management. He began his career in Hong Kong as a foreign exchange broker and later joined Crocker National Bank as foreign exchange dealer. He progressed to Asian Oceanic Finance Ltd (a joint-venture of Kuwait Foreign Trading & Investment Co. and CIGNA), and subsequently became Chief Trader for Paribas Asia, the merchant banking arm of Banque Paribas where he was the Head of Fixed-Income & Interest Rate Derivatives Trading. Richard moved to Canada in the 90's when he was recruited by Royal Bank of Canada as Foreign Exchange and Options Trader for their Ontario Treasury Unit in Toronto head office.
After returning to Hong Kong, he joined Citibank's Treasury Marketing Unit, and was then transferred to Citi Private Bank as Product Specialist and Senior Investment Advisor. Eight years later, Richard was recruited by BNP Paribas, where he became Managing Director and Asian Head of Discretionary Portfolio Management. After eleven years at BNP Paribas, he joined Crédit Suisse as Executive Director and team leader of Greater China team, leading a team of ten relationship managers. Richard is a Diploma holder of Association of International Bonder Dealers, and a Certified Financial Planner (CFP). He holds a business management Diploma from HK Baptist College and EMBA degree from City University of HK.
Jason Xu
Investment Manager at Treasure Capital Asia ("TCA")
Jason Xu is an Investment Manager at Treasure Capital Asia ("TCA") based in Shanghai China, supporting the team on business development, deal analysis, research, financial modelling, and project execution. He joined TCA in 2016 and has been involved in both TCA's China and international projects and deals since then. During his career at TCA, he has gained extensive experience on real estate investment, financing and development, private equity, PropTech. Currently, he also serves as a member of the investment & finance teams of EdQuisition (an Asia Pacific education group), leading financial modelling and supporting the capital raising activities. Jason holds a BSc Degree majoring in International Business and Economics from the University of Nottingham Ningbo China (UNNC).